It's Time For DirkMagic!
October 31st, 2018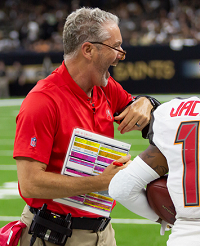 It's time for Dirk Koetter to take his 39 freakin' games of head coaching experience and outcoach the hell out of Ron Rivera on Sunday.
It's time for DirkMagic!
Yes, Joe is a Dirk Koetter fan. Does that mean Joe thinks Koetter is among the great head coaches in the NFL? Absolutely not.
But Koetter is unafraid to make bold decisions, good and bad — and he's certainly a guy who's proven he's open-minded, unlike his predecessor.
So now what?
Now it's time for Bucs fans, Team Glazer and everyone watching to walk away from Sunday's game and say Koetter got everything from his team and put the other head coach to shame.
And Joe absolutely believes Koetter has it in him. But it must come out now.
Koetter has said in various ways that his Bucs just need to put together an all-phases, complete game. Well, batter-up! There's enough talent in the house to have that complete game translate into a "W."
Sunday is the Super Bowl for Koetter and the 3-4 Bucs in so many ways. Every last person at One Buc Palace should understand that. If they don't, shame on them. Shame. Shame. Shame.
This game should be approached like it's the first Sunday in February. Koetter needs to find ways to force his entire coaching staff and roster to live that reality immediately.
A 4-4 record with a 2-1 mark the first time through the NFC south is solid start and a strong foundation. The alternative is a steaming pile of crap worthy of scorn.
Joe is yearning to type a "DirkMagic" headline on Sunday afternoon. Nothing would be sweeter.
The Bucs have it in them. Dirk's got it in him. It's really time to see it.