"You'd Like To Think You Don't Have To Blitz"
November 8th, 2018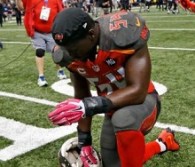 A man who knows a lot about brutal defensive backs, former Bucs rockstar general manager Mark Dominik, talked about the Bucs' historically bad defense today.
Yeah, Tampa Bay can't stop anyone, but Dominik was pointing at the young secondary and the risk run by the man who replaced Dominik.
"Jason Licht, and certainly obviously Coach Koetter, made some investments in younger corners and the problem is a lot of times you have to pay the price for that. And they are right now," Dominik said on WDAE-AM 620. "It's a young secondary and it's not playing very well right now, just for the simple facts the rules are so focused on [producing] offense, and in the overall grand scheme of things these guys are still developing."
Dominik, who after injuries and issues in 2012, sent the Bucs to battle for many weeks against NFL receivers with E.J. Biggers, Leonard Johnson, Danny Gorrer and LeQuan Lewis.
They got roasted.
The ex-GM went on to say he has high hopes for Carlton Davis and he remembers who rough Ronde Barber looked as a rookie and talking to legendary Bucs defensive coordinator Monte Kiffin about it at the time. Dominik said he's a fan of Bucs defensive backs coach Jon Hoke, as a coach and a teacher. (Don't get Joe started on that guy.)
All eyes Sunday on the trenches, Dominik said. The Redskins have a ferocious and physical front line, and Dominik wants to see the Bucs win against the absolutely obliterated Skins' offensive line.
"You'd like to think you don't have to blitz," Dominik said about the Bucs' pass rush succeeding.
---
***Derrick Brooks really opens some eyes here talking about effort.*** … It's a new TAMPA TWO, presented by Caldeco Air Conditioning and Heating. Another can't-miss production from The Identity Tampa Bay and Joe.