"A Poor Man's Version Of Julio"
November 8th, 2018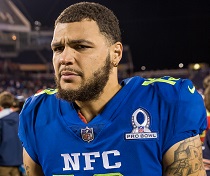 Time for film study. A three-time Pro Bowl defensive back and a retired stud receiver have broken down all things Mike Evans.
Cool stuff here.
The video below is from CSN Washington, featuring Deangelo Hall and Santana Moss.
Hall calls Evans "a poor man's version of Julio" Jones, stressing he's not trying to throw shade at Evans. Moss, one of Joe's favorite receivers in NFL history, claims Evans is "the bully of receivers." Lot of good Xs and Os here, including how covering Evans changes in the red zone.
Perhaps Hall can come and coach Bucs cornerbacks next season?