Just Nuke It
November 8th, 2018
Jason Pierre-Paul is the 2018 Bucs MVP.
AC/DC-loving general manager Jason Licht committed a felony by stealing JPP from the Giants. Guy has been a godsend and on pace for double-digit sacks, something this team hasn't had in what seems like forever (Simeon Rice had 14 sacks in 2005).
JPP is not just a one-trick pony, but solid on the run too. Still, he was brought in to get after quarterbacks. So you would think a team that has a double-digit sack man would have at least an OK pass rush.
Not with the Bucs.
Per the good folks at NFL Matchup, seen on BSPN, only two teams have less quarterback pressure percentage than the Bucs. That's just unreal and is yet another example of why the Bucs are on their way to having the worst defense in NFL history.
And if that happens, every defensive player not on a rookie contract and not named "JPP" or "Vinny Curry" should be given their walking papers. Sure, you can bring Kwon Alexander back on the cheap since he's coming off a knee injury.
Joe likes a lot of the guys on defense but if your defensive unit is worse than any NFL defense in history, worse than any expansion team defense that ever took an NFL field, what's the point?
Just nuke it.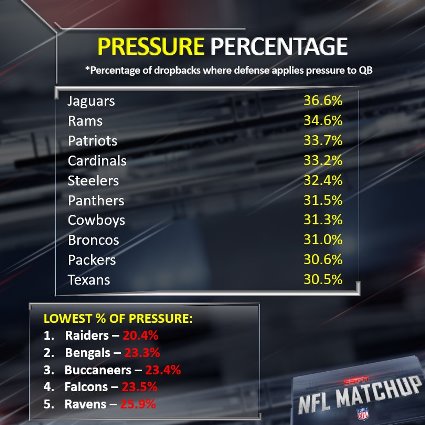 ---
It's a new TAMPA TWO, presented by Caldeco Air Conditioning and Heating. Another can't-miss production from The Identity Tampa Bay and Joe.