Unreal Call On The Final Play
October 14th, 2018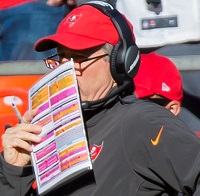 What the hell was that, Dirk Koetter/Todd Monken?
From the 21 yard line of the Falcons with seven seconds remaining, you approve a high school trick play when the Bucs are loaded with big receivers and a quarterback very capable of throwing the football?
Joe can only imagine what Team Glazer was thinking seeing that hot mess of a call. And please don't try to tell Joe it nearly worked; yeah, if only Mike Evans had thrown a better backwards pass while he was getting hit.
Heck, if you throw it in the end zone, at least you have a shot at a penalty. Again, the Bucs have the huge athletic bodies in Mike Evans, O.J. Howard, Cameron Brate and high-flying Chris Godwin.
You pay those guys for a reason.
C'mon, Dirk. You were at the 21 yard line, not the 50!
Joe really doesn't get it. Koetter talks about deferring to analytics on various calls. He's no slave to them at all, but he does use them.
Joe would love to know what the analytics say about Jameis running up the gut and then intentionally fumbling backwards to set up multiple backwards passes.