Gerald McCoy Wearing A Boot
October 14th, 2018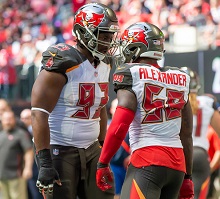 The locker room scene did not look good for six-time Pro Bowler Gerald McCoy.
Joe saw McCoy wearing the dreaded boot on his right foot/leg. Fans watching at home saw him leave the game in the fourth quarter and limping on the sidelines.
Usually, the boot means at least one missed game, typically two or three. Don't expect an official report from the Bucs until Wednesday.