Still Hard To Swallow
October 23rd, 2018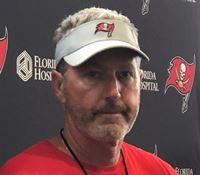 For a lot of reasons, Bucs coach Dirk Koetter has a reason to smile after beating the Brownies Sunday.
Joe cannot imagine what the hysteria would have been like if the Bucs fell to 2-4 with a four-game losing streak losing at home to the public urinal of the NFL known as the Cleveland Browns.
Not only would the fall-out long-term likely have been very bad, Koetter's decision to run the clock out despite having two timeouts in his back pocket to attempt a long field goal — which missed — would have haunted Koetter for a long time.
In a first-reaction sort of column on FootballOutsiders.com, Andrew Potter couldn't believe what he was seeing.
The bigger … I would say head-scratcher, but it doesn't confuse me so much as infuriate me, is WHY are the Buccaneers settling for a field goal instead of still trying to advance the ball and score with 45 seconds left? It's not like they have a long history of truly putrid kicking performance. Yes, it has been slightly better this year, but these are not remotely smart coaching decisions.
It's beyond a head-scratcher, and while risking the ire of Koetter, Joe deems that loser football. And it damn near cost Koetter. Dearly.
Let's see, you have the best set of receivers and tight ends in the game, a quarterback known for being clutch, 45 seconds on the clock and two timeouts with the ball on the Browns-24 and you don't even try to get a shorter distance kick for your struggling kicker?
That's beyond a brain fart.
On the surface, if Joe doesn't know any better, it sure as hell smelled like Koetter doesn't trust America's Quarterback, Pro Bowler Jameis Winston.
That cannot be. If Koetter didn't trust Jameis, he wouldn't have had him drop back to throw 66 times.