"Still Getting His Legs Under Him"
October 24th, 2018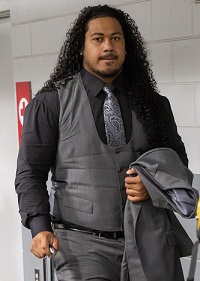 Joe's not down on Vita Vea, the manbeast, first-round draft pick at defensive tackle.
However, it is a little discouraging that the best of his three games might have been his debut in Chicago on September 30.
Vea doesn't like a No. 12 overall pick yet. However, he missed all over August and most of September with a calf injury, so the guy deserves time to get into NFL shape. This is not a George Johnson/Da'Quan Bowers situation.
Dirk Koetter was asked about Vea today and said the following, "Vita looks like a guy that is still getting his legs under him.
Kudos for Koetter for being candid.
The head coach added, "he looks like a guy that's still finding his way with his pad level a little bit, with his conditioning."
Mike Smith referenced Vea needing work on pad level before he was fired. And at 6-4, 335(?), Vea has to understand just how critical that is at the NFL level.
Perhaps a game in the low 50s, expected temperatures in Cincinnati on Sunday, is just what Vea needs to spark his game.