"On Film, These Guys Are Giving Up Run Lanes"
October 6th, 2018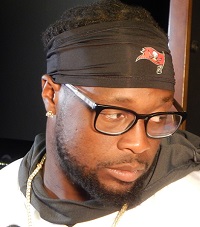 There's a new member of the Buccaneers Radio Network who knows a thing or two about rushing in the National Football League.
And no, it's not Bucs buffoon Michael Clayton, the former blocking icon.
Joe's talking about John Gilmore the tight end who started 11 games for the last special Bucs team, the 10-6 Raheem Morris unit in 2010. Gilmore played 10 NFL seasons total, including one for Chucky in 2008, when he arrived in Tampa from the Bears.
Now a paid analyst by Team Glazer, Gilmore volunteered his time for an interview this morning on WDAE-AM 620. And his trained eyes don't like what they're seeing from the interior of the Bucs' run defense.
"We haven't really been challenged, but on film these guys are giving up run lanes on the inside," Gilmore said. "They're not strong. Gap control on the inside has not been strong. I know it's been an area of focus for Mike Smith. And not having a guy like Vita Vea in there or a Beau Allen that's, you know, healthy depth is hurting them. Yeah, it's a is a big problem. It's a depth part of the problem and that comes with injuries. And hopefully Vita Vea, this guy can get healthier and more acclimated to the NFL game and we can see more run stops, more gap stops."
Before busting out that intriguing take, Gilmore noted the run defense has been called much to serious duty because of the failures of the pass defense and facing a couple of stud quarterbacks from the Saints and Steelers.
Still, Gilmore sees the run defense as a weakness that needs attention.
Gilmore didn't get anywhere close to suggesting that Gerald McCoy get traded for Gatorade, but McCoy has been a constant up the gut of the Bucs defense this season.