Not Enough Want-To
October 14th, 2018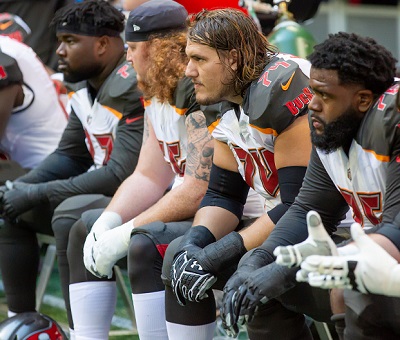 Offensive line coach George Warhop dropped a very telling line about his unit after last season.
Warhop made it very clear that the line's effort (keyword: effort) was unacceptable until Week 10 against the Jets.
The Bucs were already 2-6 and effectively out of the playoff chase.
It picked up from there, Warhop said. "We started to turn the corner in terms of mentality of how we want to go about our business. And I thought that helped us. So we just had to shake it up a little bit. And then it doesn't matter who plays. It really doesn't matter who's playing. It's just a matter of how you want to go about playing.

"More finish, more get on-your-guy, more sustain, and give our backs a better chance, so, it's just a little bit more grind."
Joe brings this up today because there are way too many Bucs offensive linemen not playing to the whistle. That's fundamental football at its simplest. Give it your all for five, maybe even 10 seconds, and repeat.
Yeah, Joe's looking at you, Donovan Smith. It's all right there on the TV copy of today's game for all to see.
So many times Smith isn't finishing. And there are others, though not as glaring. Ryan Jensen certainly plays the hardest of the bunch.
When is this going to stop? Will the Bucs go into another offseason saying/believing they need another "nasty" lineman to rub off on his teammates?
The O-line has done some great pass blocking this season, and the running game got going today. Joe's only typing here about effort. The Bucs need it to be better, especially to overcompensate for this team's atrocious defense.