Nassib Leads Disappearing Act
October 28th, 2018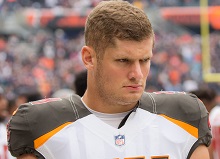 Minutes before the Bucs-Bengals kickoff, general manager Jason Licht hopped on the Buccaneers Radio Network for his weekly state of the franchise chat with Gene Deckerhoff.
First, Licht made it clear that he has a great relationship with DeSean Jackson and is more interested in seeing him thrive all season than trading him.
Licht also was asked about defensive end Carl Nassib, who had a strong multi-sack game against Cleveland, his breakout game as a Buccaneers.
The GM said Nassib was very focused on showing the world that game was no fluke. Well, perhaps it was.
Nassib and friends managed just two quarterback hits all game. TWO! That's an incredibly low number by NFL standards.
Consider they Bucs hit Drew Brees five times on opening day. And they hit Mitch Trubisky three times during the Windy City Wipeout.
Both official QB hits today came on sacks by Jason Pierre-Paul, who now has eight sacks this season.
Nassib and his linemates not named JPP were downright invisible. Did Licht jinx Nassib? No. The Bucs just can't find any hint of a consistent pass rush.
Dirk Koetter was adamant that Vita Vea can rush the passer after he was drafted No. 12 overall. So far, that's not showing up.