Ira Kaufman's 10 Takeaways From Bucs-Bengals
October 28th, 2018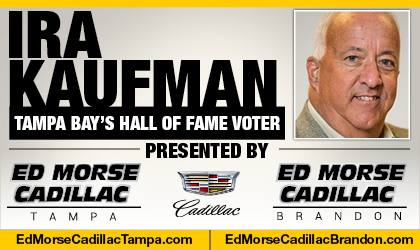 BY IRA KAUFMAN
Forget the late comeback effort and look at the standings.
Welcome back, Mr. Koetter, to the basement of the NFC South. Yes, even after a 2-0 start, Tampa Bay is looking up at the Saints, Panthers and Falcons.
Just when you think it can't get any worse, the Bucs have a quarterback quandary on their hands. Dirk Koetter didn't want to make a decision after Sunday's setback, so I'll make it for him.
You will have a heck of a time convincing your players that Jameis Winston gives you a better chance to win at Carolina than Ryan Fitzpatrick. Stick with Winston as the starter and you have a very good chance of losing your football team at the midpoint of the season.
Winston might be the future — might — but Fitzpatrick gives the Bucs the best chance to salvage a 4-4 record. Buc fans know it, and so does Koetter.
Now, he needs the go-ahead from the Glazers.
Without Fitzpatrick's stellar performance off the bench, the Bucs would have lost this game 41-23. Instead, the bearded wonder solved a bad Bengals defense like it was a Rubik's Cube for toddlers.
Does anyone doubt the Bucs would have won this game in overtime if they had won the coin toss?
Koetter's post-game news conference lasted less than five minutes and left the key questions unresolved. He didn't name a starting quarterback going forward and he didn't refute a report that DeSean Jackson wants to be traded.
He could have said that he talked to Jason Licht, who assured him the report was fake news. Instead, he claimed ignorance.
All I know is the Bucs have a hellacious offense — yet are now below the .500 mark heading into a tough matchup.
Here's the rap sheet on Sunday's crime scene:
* In the past three weeks since the bye, the Bucs have rolled up 30 first downs and 510 yards in Atlanta, 34 first downs and 456 yards vs. Cleveland and 29 first downs and a franchise-record 576 yards at Cincinnati. Just as shocking, they managed to lose two of those games and needed OT to win the third. That's just wrong.
* Mike Evans played his rear end off, gutting out the final Buc drive despite a leg injury. Among his six receptions were catches of 72 yards, 29 yards, 27 yards, 20 yards and 19 yards. That's big-time, folks.
* Yes, he did it again. Chandler Catanzaro managed to miss an extra point try for the fourth time this season. Looks like Tampa Bay's long-running kicking search is still very much alive.
* The Bucs have finished half their road schedule and opponents have scored 40 points, 48 points, 34 points and 37 points. That comes out to a nifty 40-point average. Are we supposed to forget about Sunday's atrocious first half, when Joe Mixon looked like Barry Sanders?
* Let's not think about the Buc pass rush without Jason-Pierre Paul. What a steal for a third-round draft pick. JPP registered both of Tampa Bay's sacks against Andy Dalton and both of Tampa Bay's QB hits. By the way, Vita Vea was credited with one tackle Sunday. Not good enough, big man.
* Peyton Barber was off to a terrific start with 40 yards in the opening quarter, but the Bucs fell far behind. Still, he finished with 85 yards in 19 rushing attempts and his physicality is apparent on every carry.
* The Bucs haven't looked ready to play in the opening halves of their last three road games. They trailed 38-3 at Chicago, 24-13 in Atlanta and 27-9 at Cincinnati. Add it all up and it's an 89-25 deficit. That stirring triumph in the Superdome looks like a fading memory.
* Koetter has stated repeatedly that winning the turnover battle is the key to victory in the NFL. Throw away the key, coach, because your football team is now minus-13 and we haven't even reached the halfway point. Giveaways are a huge problem, but the Bucs have only one takeaway since the bye and only one interception all season.
* "I just can't play like that," Winston said. "I've got to fix it." Winston doesn't deserve to start in Charlotte, not after he was a one-man wrecking crew against a lousy defense. About his benching, Winston said, "It was very humbling, but it's not about me." Sorry, JW. You couldn't be more wrong.
* With four losses in the past five games, a promising Buc season threatens to spiral into disaster. Tampa Bay is sloppy, not particularly physical and in danger of splintering apart. This team has heart, but leaders are in short supply. So, alas, are wins.
Now in his 40th year covering the NFL, Ira Kaufman is the most revered sports personality and writer in the Tampa Bay area. He scored a full-time seat at JoeBucsFan.com world headquarters in July of 2016. Tampa Bay's only Pro Football Hall of Fame voter busts out columns here every Monday, Wednesday and Friday, and his award winning podcasts fire Tuesdays and Thursdays. You can also hear Ira on SiriusXM Mad Dog Radio Wednesdays at 5 p.m. Also a TV star, Ira is part of the FOX-13 Tailgate Sunday NFL show at 10:30 a.m. He's also on BayNews 9 Mondays & Wednesdays at 10:30 p.m. "The Sage" enjoys beet salads, Riesling, tennis, Bette Midler, Chiefs victories and needling Joe. …WATCH IRA AND DERRICK BROOKS on the new TAMPA TWO show from The Identity Tampa Bay and JoeBucsFan.