Defense Manned Up
October 21st, 2018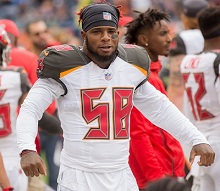 Say what you want about the Bucs defense, which crumbled and allowed 21 second-half points, overall the defense did a hell of a lot of good things it hadn't done in a while.
First and foremost, Joe saw many Browns receivers that were actually covered by defensive backs. What a concept!!
Second, five sacks by the Bucs defense — or any defense — is nothing to sneeze at (even if those sacks were the only Bucs QB hits of the game).
There were two key 3-and-outs in overtime, which were absolutely huge.
No Gerald McCoy. No Vinny Curry. No Kwon Alexander for half the game. And perhaps most important, no Mike Smith for the entire game.
It's not a championship Bucs defense by any stretch. But it was better today. They kept the Browns in front of them and got off the field on third down. The Browns were just 3-of-14 on the money down.
Duffner had the defense more aggressive in all areas, as well, especially with the cornerbacks at the line of scrimmage.
It's a start on the march back to defensive respectability.
And how about that goal line stand!