Steep Climb For The Legends
October 26th, 2018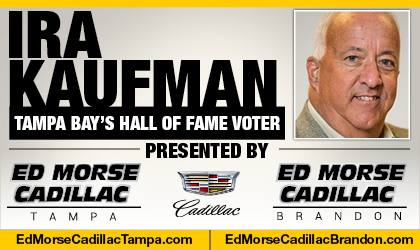 BY IRA KAUFMAN
I recently returned my preliminary ballot to the Pro Football Hall of Fame and three former Buccaneers were checked off rather quickly.
From a list of 102 modern-era candidates, John Lynch, Ronde Barber and Simeon Rice were easy choices to advance to the group of 25 semifinalists that will be announced in November.
In January, we will know who made it to the list of 15 finalists whose careers will be discussed in an Atlanta meeting room on the day before the Super Bowl.
Lynch has been a finalist for each of the past five years and I should know because I've been making the speech for his induction. It's been very frustrating for Lynch and his family, but his day will come.
The question is when.
Just like the Class of 2018, next year's group is likely to include several first-year nominees. It appears Ed Reed and Tony Gonzalez will waltz into the Hall in their first year of eligibility while 12-time Pro Bowler Champ Bailey is another compelling candidate.
The rules state a maximum of five modern-day nominees can be elected in any one class. If those three are all fitted for gold jackets, that would leave 12 finalists dueling for only two spots.
There's no guarantee that Lynch returns to the final 15. He took a step back in Minneapolis last February, when he failed to survive the preliminary cut from 15 to 10, but he has solid support from the 48-member Selection Committee.
Disrespecting Ronde
Barber and Rice were both semifinalists a year ago, but neither made it into the room for discussion.
Barber's case, in particular, needs to be heard. It should have been heard in his first year of eligibility, but he was eliminated when the voters reduced their ballots from 25 to 15.
I've asked several of the voters for their thoughts on Barber and one of the common remarks is: "He's a system corner."
That's weak, and it also disregards how unique a player Barber was during a glorious 16-year career with the Bucs. Besides his historic durability, Barber is a statistical freak.
You can't ding Lynch for not compiling Hall of Fame numbers and then ignore Barber's rare statistical profile — 47 interceptions, 4 fumbles returned for scores and 14 TDs. The only two defensive players who reached the end zone more often than Barber are Deion Sanders and Rod Woodson, both already enshrined in Canton. And throw in Barber's 28 career sacks just for kicks.
Rice's case is more difficult, but still compelling. He stands 20th on the all-time sack list with 122, even more impressive when you consider Rice played only 174 games.
He could have easily been named MVP of Tampa Bay's Super Bowl rout of the Raiders and few players in NFL history were more adept at the strip-sack from the blind side.
Load My Plate
The Talk of Fame Network website is currently conducting a poll on the best Buc not in the Hall of Fame, listing Lynch, Barber, Mike Alstott, Jimmie Giles, Hugh Green, Paul Gruber and Doug Williams as prime candidates.
Somehow, Rice didn't make their list. Lynch is leading the way in the poll, followed by Barber and Alstott.
It would be a shocker if Lynch, Barber and Rice aren't semifinalists again. That's when the real test will come. I wouldn't mind making three presentations in one setting. I've done it before, in 2014 with Derrick Brooks, Tony Dungy and Lynch.
Bring it on. The Sage will be ready.
Now in his 40th year covering the NFL, Ira Kaufman is the most revered sports personality and writer in the Tampa Bay area. He scored a full-time seat at JoeBucsFan.com world headquarters in July of 2016. Tampa Bay's only Pro Football Hall of Fame voter busts out columns here every Monday, Wednesday and Friday, and his award winning podcasts fire Tuesdays and Thursdays. You can also hear Ira on SiriusXM Mad Dog Radio Wednesdays at 5 p.m. Also a TV star, Ira is part of the FOX-13 Tailgate Sunday NFL show at 10:30 a.m. He's also on BayNews 9 Mondays & Wednesdays at 10:30 p.m. "The Sage" enjoys beet salads, Riesling, tennis, Bette Midler, Chiefs victories and needling Joe. …WATCH IRA AND DERRICK BROOKS on the new TAMPA TWO show from The Identity Tampa Bay and JoeBucsFan.