What Drives Kwon
September 6th, 2018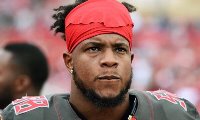 Pretty cool small feature from the NFL.
In this social media video below, the NFL highlighted the short yet highlight-filled career of Bucs middle linebacker Kwon Alexander.
In the video, you can see Alexander's tremendous game his rookie season at Atlanta and see highlights from his high school days in Alabama.
Also, Alexander talks about his football hero. Some cool stuff here.
Hat tip: @cullison_eric.
"I feel like I'm unstoppable."

How @Buccaneers LB @Kwon Alexander gets #SundayReady each week in the NFL.

(by @directv) pic.twitter.com/lKXWupkIVr

— NFL (@NFL) September 6, 2018