Patterns
September 6th, 2018
As much as Joe hates to admit it, math doesn't lie.
And neither does the eye in the sky.
(Joe's issues with math are deep-rooted and date back decades. To this day, Joe has an urge to punch a nun.)
Warren Sharp is a well-known NFL handicapper and a math guy. Long-time listeners of "The Big Dog," the dean of local sports radio Steve Duemig, likely remember Sharp's name. He appeared regularly during football seasons with Duemig.
Anyway, Sharp is big on trends and patterns (Joe is also a patterns kind of guy). Studying game film of the Bucs, Sharp believes he has solved the riddle of why the Bucs got off to so many slow starts on offense last year, so he typed for BSPN.
The biggest issue holding back the Buccaneers is coaching. Case in point: In the first quarter of games last season, the Bucs ranked No. 7 in success rate and No. 3 in passing efficiency. In the second quarter, when their game script was exhausted, they dropped to No. 30 in success rate and No. 27 in passing efficiency. A big part of that was due to lack of creativity. In the first quarter, they juggled their personnel a ton, using 11 personnel just 38 percent of the time (12 personnel 46 percent, 13 personnel 10 percent). But in the second quarter, they used 11 personnel on 75 percent of their passes and 12 personnel the other 25 percent.
What are personnel groupings? Here is a cheat sheet.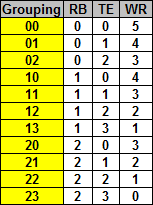 Are the problems producing fast starts that simple? Joe isn't into always blaming playcalls. That reminds Joe of what he once heard from Phil Simms. The Super Bowl-winning quarterback said the Monday after a team loses, the two things fans are guaranteed to complain about are playcalling and the offensive line.
Joe is hesitant to blame playcalling because Joe doesn't see what Koetter sees with opposing defenses. It is cool to say, "Throw to Chris Godwin" and complain when that doesn't happen. But if Godwin is double- or triple-covered, that would be a foolish play. To quote Jimbo Fisher, this ain't PlayStation.
Koetter all along has said red zone struggles doomed the offense. Given how bad they were in the red zone and how many close games the Bucs lost, it's hard to disagree.