Vernon Hargreves Is Out For The Season
September 12th, 2018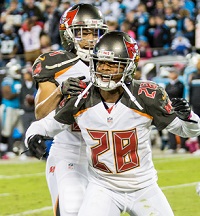 Damn, this sucks for the Buccaneers' first-round pick in the 2016 NFL Draft.
The shoulder injury suffered by Vernon Hargreaves late in Sunday's game at New Orleans will knock him out for the season.
He's done, headed to injured reserve. That's the buzz at One Buc Palace and Annie Sabo of Buccaneers partner WFLA-TV has reported the news.
That a brutal break for the Bucs. Optimism for a Hargreaves revival this season was flowing inside the walls of One Buc Palace.
Vernon Hargreaves, still just 23 years old, forced a key fumble against the Saints and that came a couple hours of general manager Jason Licht showered him with praise during a pregame chat on the Buccaneers Radio Network.
Minutes before kickoff in the Superdome, Licht was asked to name one Buccaneer he was looking at in the game to deliver big things. Licht did not hesitate. "Vernon Hargreaves." It was the second time Licht lauded Hargreaves in the interview.
Licht emphasized how much he and coaches believed Hargreaves "has grown as a player and a person" on and off the field through the 2018 offseason and training camp.
Whatever you might think of Hargreaves, he was the Bucs' No. 2 cornerback and he was a bright spot in a battered secondary on Sunday.
Now what?
Well, this is why the Bucs are sniffing Bashaud Breeland.