Pierre-Paul Adds His Second And Third Sacks
September 24th, 2018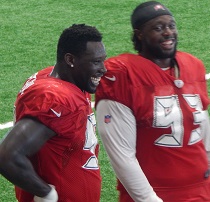 Hey, there's nothing wrong with finding positives in this messy Monday night debacle.
And one big one was Jason Pierre-Paul notching a couple of sacks and a strip of Ben Roethlisberger.
JPP is now on pace for 16 sacks after three games (fun to type that), but more important, his knee looks healthy and tonight was his second good game in a row after gutting through the injury on opening day.
JPP also added a fourth quarterback hit and totaled five solo tackles.
Joe would have loved to see the Bucs do more against a Steelers offensive line with a couple of backups in the game, but at least the pass rush had some juice to it at times.
Ten days ago, JPP said the Bucs' defensive line will be "scary" once they get their communication down. Perhaps they took a good step forward tonight.