Koetter Responds To Fitz-Jameis Question
September 25th, 2018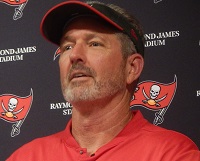 So who will quarterback the Buccaneers on Sunday in Chicago?
Dirk Koetter was asked whether he has made that decision moments ago during his postgame news conference at the Stadium on Dale Mabry Highway. 
Koetter dodged it but it appears he's already decided it's Ryan Fitzpatrick. "Let's see when the injury report comes back," Koetter said, noting that players sometimes come back with injuries the next day.
"I mean, I'd love to get a chance to talk to Jameis face to face before I tell the rest of the world," Koetter continued.
That sure sounds like Fitzpatrick won't be replaced when America's Quarterback, Jameis Winston, arrives at One Buc Palace this morning.
Koetter added that he was sure Jameis would embrace his role whatever it may be.