Mike Smith Talks Uncertainty At Defensive Back
September 5th, 2018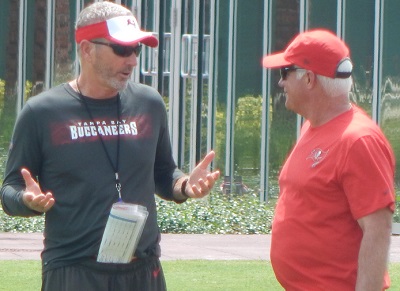 After a slew of spring practices, training camp and preseason, Mike Smith talked today about how his decisions at defensive back are a very fluid situation.
The is the same defensive coordinator who said two seasons ago that he prefers to keep the same two outside corners on the field all game.
After Smith talked about relying heavily this season on Vernon Hargreaves at outside and inside cornerback — and for leadership and a significant improvement in his play — Joe asked Smith what the pecking order is among the defensive backs.
Smith seemed genuinely unsure after chuckling at the question.
"It's tough to say. It really depends on what day it is when we've gone through training camp," Smith said.  "We've had guys that have really gone out and competed and one day you're thinking, 'Ok. Here's your guy that's gonna be holding down that spot, or he can do this or he can do that.' So we're going to have a competition all through the season.

"One thing I know for sure is we're not going to go through this season unscathed at any position. We need to have as much depth as we possible can and everybody is going to be called on at some point in time."
Man, talk about a coachspeak kind of answer at the end there. Sheesh.
In 2016, Brent Grimes played 94 percent of the defensive snaps. Vernon Hargreaves was at 98 percent across from him. Safety Bradley McDougald logged 95 percent. Lavonte David and Kwon Alexander each played more than 96 percent. Thank Pro Football Reference for the data. That's what Joe calls "unscathed" at those five key positions, Coach.
Joe gets that Smith has an open competition going with two rookie corners and shaky guys like Ryan Smith and Vernon Hargreaves, but there's no way he's not yearning for guys to lock down those positions.
Hopefully, it's not a wild ride at cornerback on Sunday. Joe is a little nervous about Hargreaves moving between two positions. That takes a lot of maturity. Hopefully, he found it this offseason.