Four Buccaneers On The Official Injury Report
September 5th, 2018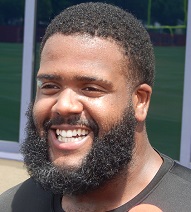 Things are really looking great for the health of your Buccaneers. 
The first official injury report of the season (it's not required in preseason) is out and only four Bucs are having issues.
The biggest — literally and figuratively — is rookie defensive tackle Vita Vea, who hasn't practiced since he walked off the training camp fields in July with a serious calf injury. The first-round pick surely will miss Sunday's game in New Orleans.
Donovan Smith (knee), Evan Smith (hip) and rookie cornerback M.J. Stewart (foot) all practiced in pads on a limited basis.
In all, this is great news. And you can read more on Smith, and watch video of him practicing, on the home page.
Dirk Koetter noted after practice that this is the healthiest he's seen his team in a while.
Amen, Coach!