"Look Into My Eyes, Dawg."
September 18th, 2018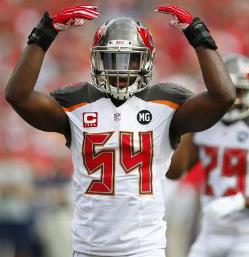 What a great look deep inside the Buccaneers-Eagles game.
In the new Buccaneers-produced video below, you'll get an interesting mic'd-up moment from Dirk Koetter and various players and coaches.
Joe liked the exchange between Koetter and O.J. Howard after Howard's 75-yard touchdown. Howard started to celebrate early and nearly got stripped at the 1 yard line. Koetter congratulated Howard on the Bucs' bench and Joe believes the quote on the audio is, "Finish smarter." O.J. apologizes and Koetter reminds him that he's going to have many more big TDs in his career.
Also, Lavonte David is the man leading the pregame, rah-rah session, the one's Jameis Winston used to handle. David screams at teammates, "Look into my eyes, Dawg!"
Enjoy! It's a load of fun to be a Bucs fan right now.