Koetter: Bucs Not Running Enough
September 25th, 2018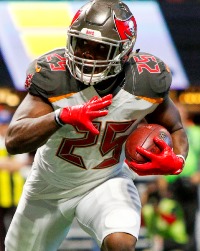 The Tampa Bay running game has evaporated for most of the last 11 quarters of Buccaneers football.
Joe was screaming for more of it early in last night's game but the Bucs kept going to the air, even when Ryan Fitzpatrick was clearly rattled.
Peyton Barber's first four carries tonight went for 26 yards, and then he practically disappeared. Trailing 16-7 entering their next drive, the Bucs went to the air big time outside of one east-west run from Barber that ended in a holding call on the Bucs.
Joe thought there was way to much east-west running from Barber who is a north-south kind of guy. Why were the Bucs not pounding the rock?
Hey, Joe's not calling the plays and doesn't know what Todd Monken might have been seeing. But Joe sure did see a rough day for the Bucs' offensive line overall.
Asked about the run game in his postgame news conference, Koetter said the Bucs simply need to the run the ball more and the couldn't do that down 20 entering the second half.
Barber finished with eight carries for 33 yards.
Frankly, Joe's a bit disgusted that the Bucs have yet to show they can effectively use their running backs in the red zone. That part of this offense sure hasn't been fixed.