Jameis' Workouts
September 26th, 2018
It was slightly before 6 a.m. yesterday when America's Quarterback, Pro Bowler Jameis Winston, walked into One Buc Palace to start his daily routine just as he has hundreds of times before, reported Jenna Laine of ESPN. 
But things were anything but routine. It was the first time Jameis came to One Buc Palace in nearly a month as he served this three-game sentence handed down by NFL warden Roger Goodell.
And things may never be the same. Who knows when Jameis will start again, or perhaps, ever play again for the Bucs?
Jameis was leaving nothing to chance. After he learned he was to be suspended, he hatched a plan to gather unemployed NFL players and bring them together in the Tampa Bay area to mimic practices as much as possible, right down to scripted plays and even 11-on-11 drills. A pair of former Bucs receivers, Louis Murphy and Bernard Reedy, were two of the many participants.
Jameis' former personal quarterback coach, George Whitfield, helped organize the three-week practices which included a game each week in pads.
Jameis brought the idea to Koetter this summer and Koetter signed off on it. Yesterday in his day-after-game press conference, Koetter credited Jameis for being so proactive.
"Knowing Jameis, the fact that he came up with that plan and put it into motion and recruited people to help, I mean, I have never seen that before," Koetter said. "It really doesn't surprise me knowing Jameis like I know him.

"I wouldn't mind seeing film of it because Jameis got his wish: He was both player and coach at the same time."
Below is a Twitter post from Whitfield's timeline that shows a number of the participants. Anyone out there want to try to guess where these practices were held?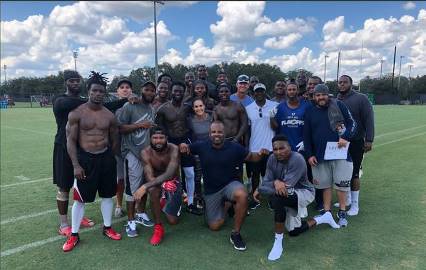 All month @Jaboowins led a team of former & recently cut NFL players thru the Buccaneers exact regime including early morning film sessions, walk thrus, 20+ period practices. All done at the exact time of day the Bucs would go. pic.twitter.com/0bJp1UoKSn

— George Whitfield Jr. (@georgewhitfield) September 24, 2018