Gerald McCoy's Apology To Ben Roethlisberger
September 25th, 2018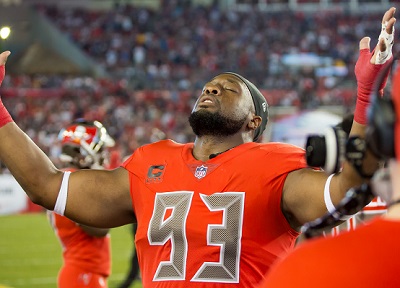 Forget whether you think this was a bad look or not, Joe thinks it's realistic to believe Gerald McCoy's in-game apology helped draw a 15-yard penalty on the himself and the Bucs last night.
In a terribly officiated Bucs-Steelers game, McCoy received one of four roughing the passer penalties handed out.
Mic'd up for the game, McCoy was caught apologizing for his late hit on Ben Roethlisberger in the end zone. "My fault, Ben! Hey, my fault, Ben." You can watch the film with audio below.
Pay attention and it's easy to see that McCoy yells, "My fault, Ben" before the official throws the flag. So Joe has to wonder whether McCoy's apology cost the Bucs 15 yards. Hey, the zebras are human and can be influenced. It certainly was a borderline hit.
Joe's got no problem with McCoy apologizing, but damn, at least wait until the play is over. Joe realizes lots of fans will see this video and see evidence that McCoy is soft and lacking what he needs to reach his potential. Whatever, McCoy haters.
Ironically, Jason Pierre-Paul goes to argue the call as McCoy is apologizing for the second time.