"Emotional Week For Me"
September 16th, 2018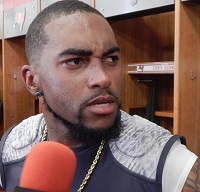 Bucs fans love when their team gets the national spotlight, and here it is right here.
Fun, fiery interview with DeSean Jackson.
D-Jax was caught on the field by NFL insider and Hall of Fame voter Sal Paolantonio.
Jackson touches on the "emotional week for me" coming off the concussion protocol and a shoulder injury, and Joe learned something new: Jackson grew up a huge Steelers fan. Joe can say that in the locker room, Jackson got a little deeper into the challenges of coming back from the concussion situation.
Bucs fans will love how D-Djax closes this interview. Bring on those winless Steelers!