Unexpected Depth
September 17th, 2018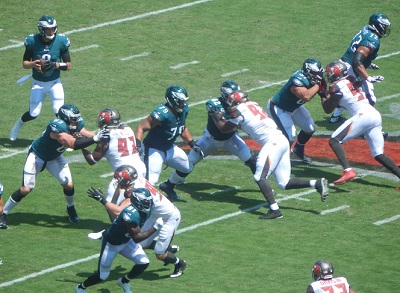 Early against the Eagles today, the Bucs trotted out a defensive line to start a series against a mighty Philly offensive line that nobody at One Buc Palace would have expected to see a few weeks ago.
It's all there in the photo above: Carl Nassib off left end, Gerald McCoy and Will Gholston at defensive tackle and Will Clarke at right defensive end.
It's hard to believe this is what was up against the world champs and their stud line for chunks of today's game and the Bucs managed to eat another "W."
Heck, with this group leading the push up front, and Nassib dropping in coverage, Kwon Alexander blitzed in the first quarter and had his big sack-strip play.
Nassib was launched by the Browns on cut day and Clarke was booted by the Bucs to make room for Nassib before he was re-signed to help with depth. Gholston proved himself to be a viable defensive tackle option in preseason. He's since shown he can run-stuff there and, gasp, he even breathed on Nick Foles today. Gholston registered TWO quarterback hits!
No, the Bucs D-line depth won't be confused with the Eagles' beasts anytime soon, but they've been viable. Plus, things should get better when Vita Vea returns (hopefully this month) and Mitch Unrein comes off injured reserve in Week 9, assuming his concussed dome is fine.