Sacks Are Back!
September 16th, 2018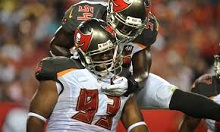 Before today, the Bucs were riding an eight-game streak without three sacks or more.
It's part of why they ran out in the offseason and signed five defensive linemen.
But that streak was broken against the Eagles with sacks by Jason Pierre-Paul, Kwon Alexander and Gerald McCoy. All three were quality and beastly efforts. JPP and McCoy each had sacks on first down, which Joe absolutely loves to see. That's usually pure desire and talent, and they were.
McCoy made the Saints right tackle look like a high schooler, and it was very cool to see McCoy coming off the left side like that. It's a rare sight.
Kwon, of course, had the big blitz on 2nd-and-2 in the first quarter that became a sack-fumble that set the tone for the defense. Joe asked Dirk Koetter about that play after the game and he praised Kwon for being an emerging blitzer and for not going too wide on that play, which apparently has been an issue for Kwon in the past.
Hey, the Bucs now have four sacks in two games against two offensive lines that easily are in the NFL's top-1o. And the Bucs are missing bodies on the line. Pretty darn good for a team with just 22 sacks all last season.