The 4th-And-10 Punt/No-Punt Debate
September 25th, 2018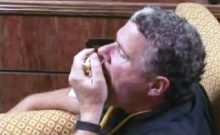 Joe loves great, old fashioned barroom football debate.
And the Bucs delivered a good one late last night.
Trailing 30-27 with a couple of timeouts with 2:49 remaining, the Bucs had 4th-and-10 on their own 20 yard line.
Dirk Koetter was faced with a decision.
Option 1: Go for it. If you succeed, great. If you fail, the Steelers are in position for a 3-and-out culminating in a short field goal for a six-point lead. And then you still time to drive for a winning score. Of course, the Steelers could score a red-zone touchdown and then the game is over, or they could miss their field goal. Their kicker was struggling.
Option 2: Punt and then try to force the Steelers to punt — or turn the ball over — and then have enough time to drive for a tie or a win.
Koetter punted.
The Steelers got a passing first down and then a rushing first down before landing in the victory formation.
Should Koetter have gone for it and put the game in the hands of his strength, the passing offense? Joe was clamoring for Koetter to go for it and talked about it on the Ira Kaufman Podcast today. Simply stated: Joe trusts the offense more than the defense. However, it can certainly be argued various ways.
NBC Sports NFL heavyweights Peter King and Mike Florio did just that this morning on PFT Live. The video is below. They really got into the Xs and Os of it all and Joe recommends it.
So who sided with Koetter? Clue, it wasn't the guy who had a rough confrontation with Koetter a couple of years ago.
Enjoy!