10 Big Bucs Questions As Opening Week Kicks Off — And Before Waiver Claims This Afternoon
September 2nd, 2018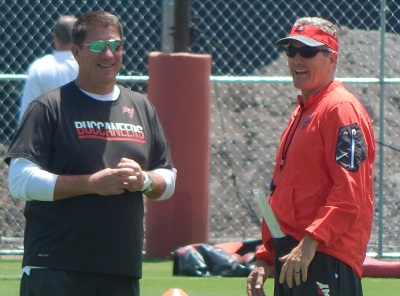 There's a real Bucs football game in seven days. SEVEN!
With that in mind, Joe is pondering 10 thoughts this morning before the Bucs roster changes again.
*Vita Vea hasn't practiced since July. Please don't try to tell Joe the Bucs weren't expecting a significant impact this season from the No. 12 overall pick. When will it come? Beau Allen is only used to part-time snaps, So the Bucs' depth will be tested.
*Newcomer free agent DE Mitch Unrein is in concussion protocol, per Dirk Koetter's latest update. When will he be cleared for duty? D-line coach Brentson Buckner was very impressed by the guy.
*If Vernon Hargreaves starts at cornerback and moves to nickel when appropriate, then who is the next cornerback up? Ryan Smith? One of the rookies?
*Donovan Smith's injured knee is more than just one guy who could miss a start in seven days. His absence could change the entire game plan, as well as the offensive line alignment. Regardless, Koetter would have to account for Smith's absence with more multi-tight-end sets and running back help.
*Keith Tandy and Josh Robinson, a couple of very key cogs on special teams, were cut. Robinson was the special teams captain last year. Who picks up the slack? Joe is unnerved at the thought of Chris Godwin getting banged up playing a ton of special teams. He's very good at it.
*Will Dirk Koetter reveal who will call the offensive plays in New Orleans next week? Surely he knows by now.
*Will Ronald Jones be among the active players on opening day? Joe's just saying the numbers game might not favor him for that one game. He isn't much of a special teams player.
*Would anyone bet against Gerald McCoy, Vinny Curry and Jason Pierre-Paul each playing 80 percent or more of the snaps in New Orleans? It feels like the Bucs' desired defensive line rotation will — and should — go out the window in Week 1.
*Will DeSean Jackson get the primarily load of work as the No. 1 punt returner this week in practice?
*Bucs players are likely to vote on their captains tomorrow. The outcome has no bearing on anything, but Joe is curious to see if the players' vote reflects any kind of culture change or leadership shift.