Mike Smith Wants Bucs To "Finish Practices"
August 1st, 2018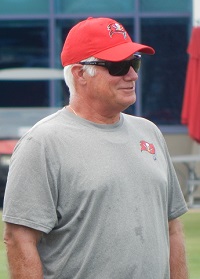 For fun — and a bit of research — Joe is currently watching the 2014 Falcons episodes of Hard Knocks on HBO.
Bucs defensive coordinator Mike Smith, of course, was the Atlanta head coach, and Dirk Koetter was the offensive coordinator.
A big theme of the opening episode was toughness, mainly because the buzz around Atlanta at the time was that the Falcons went soft in 2013, just a season removed from the NFC Championship game.
Smith is seen giving a speech about the meaning of toughness, and how it's only about physicality on every snap — in practice and in games.
Today, Joe asked Smith about that and if he's getting the desired toughness from his defense through six days of Bucs camp. Not completely, Smith replied.
"For the most part, these guys, they've done a good job, I think what we have to do is be a little bit more resilient and be able to, you know, finish practices, finish games, and I think that's one of the things that I believe that our guys understand. That's going to be important because more games in this league come down to one score than people realize."
There's that one-score game thing again. The Bucs were 3-7 in one-score games last year, a fact Dirk Koetter has shared many times.
Joe has often thrown cold water on that. Hey, the Bears were 2-6 in one-score games, too, and they finished 5-11 with the NFL's 10th-ranked defense. Does that mean the Bears are on the cusp of something special?
Still, Smith is correct and focused, and the Bucs defense has started better in camp practices than they've finished.
Hopefully, this season Smith can produce a group of finishers. If Tyrod Taylor rallies his team late on the Bucs again, this time in Tampa with the Browns in Week 7, Joe might actually take a week off.