Talent Spigot Is Open
August 1st, 2018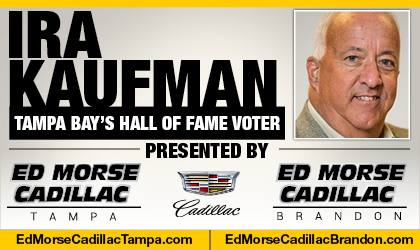 BY IRA KAUFMAN
Whether or not you're a Jason Licht fan, you've got to admit it … the man's a survivor.
The Bucs may have a 22-42 record since Licht was named general manager, but ownership likes the influx of young talent he has added to this roster since replacing Mark Dominik in 2014.
Tampa Bay will soon have a core of players drafted by Licht working on their second contracts. That continuity emerged as a key factor in the decision to reward Licht with a new contract for 2019.
Licht's power within the franchise continues to grow, but he'd rather give credit to his scouts and personnel department for finding players like Cameron Brate and Kwon Alexander.
Licht has learned from his mistakes — and there have been more than a few. The ghosts of Anthony Collins, Michael Johnson and Chris Baker haunt Licht from the free-agent side while the Roberto Aguayo saga turned out to be a draft fiasco.
In evaluating Licht's work, the Glazers kept coming back to the draft-day hauls.. Mike Evans, Ali Marpet, Donovan Smith, Alexander, O.J. Howard, Justin Evans, Chris Godwin and Kendell Beckwith have all played prominent roles in Tampa.
Breeding Ground
Licht overhauled the defensive front this offseason, adding five new pieces to address Dirk Koetter's wish list.
"The moves we made in free agency, trades and the draft brought a lot of new guys into our room," Mike Smith said after Wednesday's practice. "I've been impressed with their work ethic. It breeds a lot of competition and brings out the best. We have more depth and we like where we're at."
Now, it's up to Smith to move his pieces around the NFL chessboard and tip over kings like Drew Brees, Matt Ryan and Cam Newton.
Licht waited a long time for his shot at calling the shots. In Philadelphia, he worked with Howie Roseman, now the executive VP of football operations for the Super Bowl champion Eagles.
"Everywhere Jason has been, they've won," Roseman told me. "The man is an incredible talent evaluator and a really good people person. He has learned from the best in the business and Jason is a tireless worker.It was only a matter of when, not if, he was going to get a chance to run his own team."
The Glazers have a long memory. They know Tampa Bay's glory years coincided with a run of solid drafts that led to lucrative second contracts.
Prove-It Season
For quite awhile, that talent spigot shut down. Draft busts and free-agent mistakes ruled the day.
There's a good chance half the starters for the 2018 Bucs will hail from drafts managed by Licht. That's a pretty decent percentage.
The next step in this process is to prove these guys are winning players, draft picks who can open up leads and close the door in crunch time.
"Jason knows how to put a roster together," says 2-time Coach of the Year Bruce Arians, who worked with Licht in Arizona. "And I think he feels very comfortable with Dirk Koetter. We had a great relationship in Arizona. You don't always agree, but you get along and you make decisions for the team. Other teams might not have a player that high on the board — we don't care. They fit us. You draft for your coach and your team, no matter what anyone else's grades are. That's why Jason will succeed in Tampa."
Now in his 40th year covering the NFL, Ira Kaufman is the most revered sports personality and writer in the Tampa Bay area. He scored a full-time seat at JoeBucsFan.com world headquarters in July of 2016. Tampa Bay's only Pro Football Hall of Fame voter, Ira busts out columns here every Monday, Wednesday and Friday, and his award winning podcasts fire Tuesdays and Thursdays. You can also hear Ira on SiriusXM Mad Dog Radio Wednesdays at 5 p.m. during football season. Also a TV star, see Ira now on Mondays at 10:30 p.m. on Spectrum Sports 360 (aka BayNews 9). Ira also is part of the FOX-13 Tailgate Sunday NFL show and enjoys beet salads, Riesling, tennis, Chiefs victories and needling Joe.