McCoy Says He Won't Fall Into Vet Trap
August 15th, 2018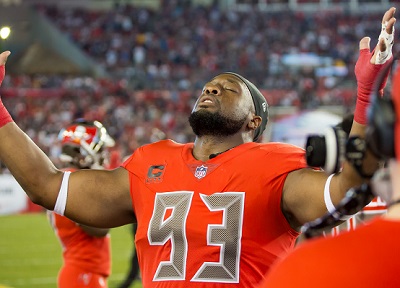 Joe had a heart-to-heart with Gerald McCoy today after practice on the muggy fields of the Tennessee Titans complex.
First, let Joe set the record straight on the report here of Gerald McCoy's injury last night that had McCoy limping long after practice ended in Tampa on Tuesday.
McCoy's toe got stomped in practice. He's fine. He doesn't take a veterans day for a badly bruised digit.
But on the subject of the body, today Joe got a little philosophical with McCoy, who turned 30 this offseason.
A lot of young players assume their bodies will be in trouble when they're 30 or they look into the future and envision that as the beginning of the end. Joe asked McCoy about what he used to think about turning 30 and how that might jibe with his current reality.
"I feel like I'm 30," McCoy said laughing.

"But here's the thing. Three years ago I was at the Super Bowl and I had the opportunity to interview Bruce Smith. And when the interview was over, I asked him, 'I said how did you play 20 years?' and he said, 'I learned at an early age it's easier to stay in shape than get in shape. So I believe if I keep doing the same things I've always done and don't stop for a minute physically, and just improve with my technique and the mental part of the game, then I can play as long as I want. Staying in shape and giving it my all is being myself, not falling into the trap mentally of, 'Oh, you're nine years in. You're 30. You should take days off. You shouldn't be going as hard.' I go hard every day. I only know one way and I'm not going to stop. I'm going to keep going until my body tells me or makes me stop."
McCoy isn't throwing around BS. His offseason regimen of training with Drew Brees and showing up for every practice early and hungry continued this season, his ninth in the NFL.
Joe has even heard movers and shakers around One Buc Palace say this has been McCoy's strongest August to date.