Offensive Line Dominates Titans In 1-On-1s
August 15th, 2018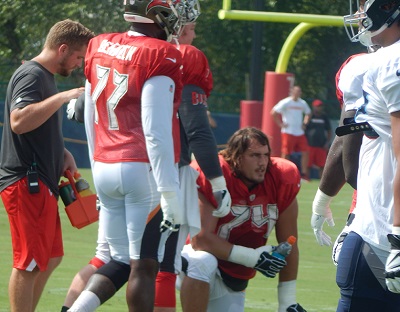 Joe was going to include this detailed look in today's comprehensive practice notes from work against the Titans in Nashville, but after a moving and informative chat with offensive line George Warhop at the team hotel, Joe's going to make this its own post.
The Bucs' offensive line was dominant against the Titans today in 1-on-1, pass-rush/pass-blocking work.
That's best described as an offensive lineman lined up on a line of scrimmage with teammates alongside for show, but only one pass rusher is going against the O-lineman.
Over and over and over the Bucs' first-team line worked over their Titans counterpart.
Sadly, Titans media rules — and rules for fans in the stands — prohibited video or photos of the action. (C'mon, guys!)
Anyway, Joe was there dialed in.
Demar Dotson, at right tackle, handled rookie Sharif Finch, before Donovan Smith took care of Harold Landry, III. Then it was back to Dotson stoning Josh Carraway. And then Smith stepped up to win against Tobenna Okeke.
Those weren't exactly the Titans' biggest names, but then it was Ali Marpet with a "W" before Julius Warmsley drove Marpet backwards more than he would have liked, but still probably a win for Marpet.
Caleb Benenoch stepped up at right tackle and looked comfortable in his old role.
Then "nasty" Ryan Jensen was locked in with DL Austin Johnson and there was a little action after the whistle following a Jensen win. Jensen then put rookie Mike Ramsay on the ground.
Bucs backup Brad Seaton took care of Tony Washington, JR. before losing to Finch. And swing tackle Mike Liedtke, who has a lot of fans in the organization, stepped up and handled Davond Dade and then Okeke, while rising rookie guard Reuben Holcomb put a Titans rookie to the ground.
Things finallly turned ugly for the Bucs as Titans rookie Matt Dickerson took Alex Cappa to the cleaners and Ramsay mauled Evan Smith, who was working at center.
Then the Bucs' first unit was back in with multiple pass rushers on each side this time, and it was more wins for the Bucs. Ali Marpet looks so much damn stronger this season.
Joe and Warhop had a long talk about O-line play and Joe really wanted to learn more about Warhop's stunning spring comment that the line didn't have the correct mentality until the ninth game of the 2017 season.
Unfortunately, it was an off-the-record conversation, but Warhop was very enlightening.
Joe will say this: there's something different and improved about the mentality of this current Bucs team, and the prevailing internal thought about the Bucs' failures last season is that they were mental as much or more than physical.
That's all going to get tested in New Orleans in 25 short days. Nothing will mean a darn thing before that.