How Badly Is Gerald McCoy Hurt?
August 15th, 2018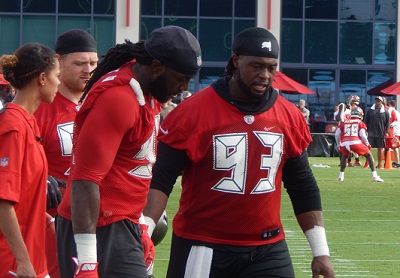 Joe noticed something about Gerald McCoy yesterday and it wasn't just No. 93 taking lots of time to sign autographs for kids.
It was obvious that McCoy was walking with a significant limp favoring his right leg.
Joe even called over another pair of eyes to verify.
For perspective, after the autograph session, McCoy walked from the Bucs' indoor practice facility to team headquarters about 150 yards away. He didn't call for a golf cart or ask one of the many security personnel for a ride. But he was limping the entire way.
Joe just hopes 30-year-old McCoy, who is known as a practice warrior, doesn't feel a need to grind through a legitimate injury in the middle of August. Whatever he tweaked, he's certainly earned the right to let it heal so he doesn't limp into opening day in New Orleans in 25 short days.
Joe will monitor this development as the Bucs practice with/against the Titans today in Nashville.