Koetter Wouldn't Name Himself Playcaller
August 31st, 2018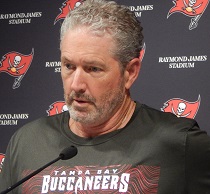 It seems Dirk Koetter thinks there's a competitive advantage to not letting the Saints know who will call the Bucs' offense in nine short days.
NINE!
After last night's Bucs-Jaguars preseason finale, Koetter was asked whether he will resume playcalling duties when the regular season begins. Offensive coordinator Todd Monken commanded Koetter's playbook through the preseason.
"Yeah, we'll see. We'll see how it works out," Koetter said. "I mean, we're gonna run the same offense that we always run; it's the Tampa Bay offense. You know, we'll see. We're going to do what we think gives us the best chance to win."
That answer is a little bit of a head-scratcher. Joe really doesn't believe Koetter is thinking of handing the keys to arguably the most loaded offense in Bucs history to Monken, who is new to the role at the NFL level this season.
Koetter should parlay his years of experience calling plays — three full seasons with the Bucs included — to the team's advantage.
Joe supposes it's possible that Koetter is undecided. Maybe Koetter thinks Monken's trial run proved he is the team's best playcaller? That would be hard to believe considering the many vanilla defenses faced in the preseason. It's just not a true enough test.
Most likely, Koetter is just trying to keep his old friend Sean Payton guessing.