"It's Going To Be A Tough Time For Me"
August 31st, 2018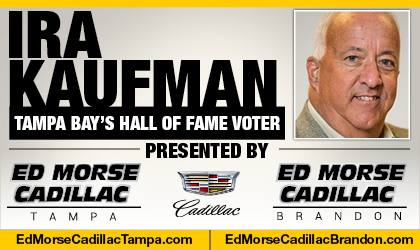 BY IRA KAUFMAN
He has no idea.
Jameis Winston is bracing himself to serve a three-game suspension. He thinks he knows the challenges ahead, but he's still on the outside, looking in.
Soon, waves of guilt will wash over him.
As he stood at his locker for a few minutes after Thursday night's preseason finale, Winston vowed to work his tail off during his exile.
He will.
He's going to throw footballs until his right arm aches, but those balls won't be caught by Mike Evans or Cameron Brate. He's going to spend extra time with his baby boy and fiancée, but at some point in the next three weeks, Winston will realize just how much he misses One Buc Place.
Then and only then will Jameis Winston come to grips with what he's done. That's when the depth of his poor judgment on that fateful Arizona night will hit home.
Winston screwed up. He screwed up big-time.
Total Support
When he addressed teammates earlier this week, he offered no excuses. He vowed to regain their trust through sweat and dedication.
"Since this process started, he stepped into the background a bit instead of being the Jameis we're used to," said the longest-tenured Buc, Demar Dotson. "He led from the back instead of from the front. Jameis told us he's going to miss being around us, but the show has to go on.

"This ship has to keep rolling. No matter what, he's going to come back with a chip on his shoulder. This will drive him and show the naysayers who are out there saying you should get rid of him."
Missing games due to a bum right shoulder is one thing. Missing games because of a bum decision is quite another.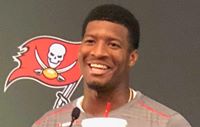 He'll watch Tampa Bay's season opener in New Orleans and root like heck for Ryan Fitzpatrick, but make no mistake — Winston is bound to experience pangs of remorse while the pewter gang attempts to spring a major upset against a division rival.
"It was a difficult situation for Jameis, but he handled it as best as he could have," said Keith Tandy. "He addressed the team to get that awkwardness out … and he definitely needed to do that. I have no doubt he'll be ready to go when he gets back."
The exact date of that return is uncertain.
Team First
We know when Winston will be reinstated to the active roster, but it's unclear when he'll start again under center.
It's not Winston's call. That's an organizational decision, based in large part on how the team is playing under Fitzpatrick's direction.
"Who knows how things will go?" Winston said. "Hopefully, it goes great. I'm very appreciative I've had support from the owners on down. It's going to be a tough time for me, but I'm going to get over it. I love this community and no way in the world I'm stopping."
When Winston returns, he needs to play well. More importantly, he needs to prove himself as a winner on the pro level.
This isn't Tallahassee, where your guys are simply better than their guys. This is Tampa, where your guys have annually owned the division basement.
If Winston goes 5-8 and drops to 23-35 as an NFL starter, it won't be character issues that give this franchise pause about bringing him back for 2019.
As Winston stands at the crossroads, he's seeking a path to redemption. The next three weeks will be brutal for him, but as Dotson noted, the ship has to keep rolling.
Captain or no captain.
Now in his 40th year covering the NFL, Ira Kaufman is the most revered sports personality and writer in the Tampa Bay area. He scored a full-time seat at JoeBucsFan.com world headquarters in July of 2016. Tampa Bay's only Pro Football Hall of Fame voter, Ira busts out columns here every Monday, Wednesday and Friday, and his award winning podcasts fire Tuesdays and Thursdays. You can also hear Ira on SiriusXM Mad Dog Radio Wednesdays at 5 p.m. during football season. Also a TV star, see Ira now on Mondays at 10:30 p.m. on Spectrum Sports 360 (aka BayNews 9). Ira also is part of the FOX-13 Tailgate Sunday NFL show and enjoys beet salads, Riesling, tennis, Chiefs victories and needling Joe.