Jimmy Giles Calls Out Dirk Koetter's Great "Problem"
August 26th, 2018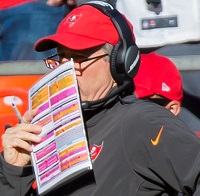 Buccaneers Ring of Honor member Jimmie Giles saw a thing or two during his impressive 13-year career.
And now he plays very close attention to his beloved Bucs.
Giles was at training camp this season and he even spent an afternoon with the Sage of Tampa Bay sports, Ira Kaufman, last week at his office. (Giles' office, not Ira's.)
Giles also chatted the other day with Rock Riley, host of the afternoon show that you should be listening to religiously, 3 p.m. to 6 p.m. on 1040 AM. And it was there that Giles explained Dirk Koetter has a massive challenge before him.
The tight end star of the 70's and 80's even called it a "problem." Giles loves the talent on this Bucs team and acknowledges they are flat out loaded with pass catching weapons.
Koetter, he said, must find a way to distribute the ball evenly.
"I've watched O.J. [Howard], and Cameron [Brate] over the past few years; and they've got a couple of good tight ends there. The problem is they're going to have is being able to get the football to all of them," Giles said. "You know Mike Evans has got to have his balls, and then you have one of the fastest receivers in the game in Jackson. So I think it's up to the offensive coordinator to distribute the football equally and hopefully whoever comes up with it can score and put some points on the board, because that's what we're going to need."
The distribution argument can go in many directions. Koetter is quick to say the defense dictates where the ball goes, but Koetter also says he knows players can get cranky when a lack of targets is accompanied by the team losing.
Joe's not worried about Koetter for one second.
Joe is concerned, however, that the Bucs have a quarterback — America's Quarterback, Jameis Winston — who is a little too obsessed with pleasing his teammates and is prone to forcing situations.
Does Jameis have it in him to potentially tell Mike Evans or DeSean Jackson to shut the heck up and stop worrying about touches? That doesn't sound like the same guy who admitted to needlessly and intentionally forcing passes in his 45th NFL start.
For the record, Giles told Riley that he believes Jameis is a fantastic quarterback with an infectious positive spirit. Giles' only concern is Jameis' competitive drive leading him to dangerous, ill-advised decisions like the off-balance touchdown throw to Chris Godwin in Tennessee. Yes, Giles called that play out specifically.