Was Jameis Being Sarcastic Or Immature?
December 31st, 2017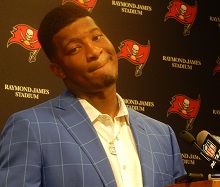 Mike Evans tied an impressive NFL record tonight, notching his fourth consecutive 1,000-yard season to start a career.
In 15 games, Evans racked up 1,001 yards on 71 catches. Kudos to him. Even when Evans doesn't have his best year, it's a good year. That's the mark of a strong player.
But getting Evans those yards nearly cost the Bucs the victory and showed the immaturity of America's Quarterback, Jameis Winston, who threw two of his three interceptions at Evans while he was at least double covered. That's IF you believe what Jameis said after the game.
"I was trying — that's what messed me up — I was trying to throw the ball to Mike Evans the whole game and that kind of threw me off my game. I wanted him to get that record," Jameis said with a smile. "Luckily, he got it by one yard so, shoot, I accomplished what I wanted to do. I didn't go out there. I didn't want to throw three interceptions but I also didn't think we were going to have a 95-yard drive, either. So like I said. God is good. That's all that matters. We got the win, right?"
Joe really couldn't tell if Jameis was being sarcastic or not, but Joe believes there's an 85 percent chance Jameis was being serious.
That's scary, assuming it's true, that Jameis would screw up a game with three picks in part because he was trying to force a ball to a guy trying to get a record during a competitive game.
Joe supposes it's just another maturity lesson for Jameis.