Varying Player Reviews Through First Bucs Camp With The Indoor Facility
August 22nd, 2018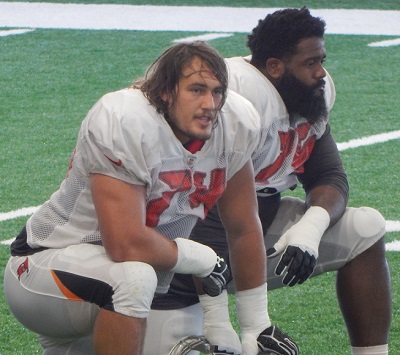 Training camp officially ended today and Joe gathered commentary from players on the team's frequent use of the new indoor facility on the grounds of One Buc Palace — versus the sun-drenched beautiful grass fields.
Not every player loves it indoors and those who don't like it typically don't want to answer questions about it.
Hey, it's understandable that some players are leery of turf and in-practice moves from outdoors to indoors. Even if it's uneducated fear, it's still understandable.
Noah Spence told Joe that he likes the atmosphere of practicing indoors and how it can alter your mindset.
"It gives us a different perspective," Spence said. "I think it makes you think more about your technique just a little and the little things in general, especially with the crowd being so close and it feeling more like a game atmosphere sometimes."
Interesting take. The crowd, especially on Training Camp Takeover Day, certainly got loud at times and drove the team to a silent count intermittently. Also, it's like bringing in a distraction, which could be what Spence meant when he said indoors means an enhanced focus on technique.
Kwon Alexander had mixed feelings about practicing indoors and Joe thinks Alexander's mindset was just right.
"It really don't matter, man. We got to still do what we got to do, whether it's in the indoor or the outdoor. We play outdoor ball, the Buccaneers, most of the year," Kwon said. "It helps us like recover our legs in the indoor and on the turf. Me, I love to play on grass. That's football. That's how I like to play. I love the air conditioning. Don't get me wrong. It's a great thing the owners brought to the facility. Maybe it's made camp easier physically, but there's more to this game and your work is your work."
Bottom line: indoors made things easier on players, which can be good and bad. Bucs fans will soon see if that pays off when it counts.