Diverse Jameis Views From Female Bucs Fans
August 22nd, 2018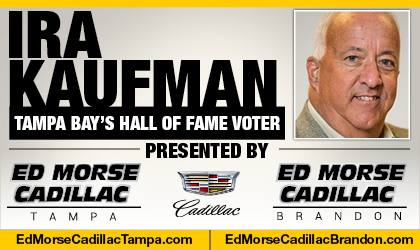 BY IRA KAUFMAN
Jason Licht was in a downright giddy mood Tuesday evening, for good reason.
By the time the GM of the Bucs addressed hundreds of fans who turned out for the "Women of Red" event in the indoor facility, he already knew that injuries to Donovan Smith and Justin Evans were not deemed serious by the medical staff.
You could credibly argue that left tackle is the second-most important position in the NFL behind quarterback, and the Bucs believe Smith could potentially return in time for the Sept. 9 opener at New Orleans.
This fourth annual event to celebrate Tampa Bay's growing female fan base was a success on all levels as Darcie Glazer Kassewitz, president of the Glazer Family Foundation, mingled with supporters throughout the evening.
"Over time, what I have seen is these women feel more like a family," she said. "They come together and feel that Women of Red is their group. I love that I get to have one-on-ones with so many of our female fans. It's very rewarding for me."
I was curious to gauge Darcie's reaction to Jameis Winston's suspension, but it wasn't going to happen — not on this night. First, I asked her if the league is doing enough to address domestic violence issues.
"Tonight, I really just want to focus on our celebration of our female fans," she said. "We're so thrilled to have about 1,000 women coming out tonight."
In other words, move on.
Advice Plentiful
Some of the women who attended didn't hesitate to make their feelings known about Winston, who will be barred from any contact with the team for the first three weeks of the regular season.
"The three-game suspension is fair," said Debbie Kemp of Tampa. "We're a society that gives up on people and I appreciate what Jameis does in the community. There are people doing worse things in the league, but it's not a good look for Jameis. Learn from this and support your team during your suspension."
Winston also has the backing of D.B. from St. Petersburg.
"You've got to realize how young he is," she said. "He's still immature, but I do believe in second chances. My prayer is that he grows up to be the man his mom and dad raised. My advice is check your friends … know what their motives are. I'll tell you one thing — he throws a mean ball. You've got to give him another chance, but groping crosses the line. No, young man, no."
Zero Tolerance
Brandi Winans was there, too. Her late husband, Jeff, started 12 games at guard for the 1977-78 Bucs.
"I like Jameis personally," she said, "but he has to keep maturing. I say Jameis should stay with the team this year and then the Bucs have to make a big decision on him. The incident in question happened a couple of years ago and we all make mistakes. If he messes up again, he's gone. The ball's in his court."
Toward the end of the evening, I ventured outside the bubble and spotted a young woman at the makeshift bar wearing a No. 5 Tampa Bay jersey.
"Excuse me, miss," I said, "but Josh Freeman hasn't played for this team since 2013."
"I know that, but I needed something to wear tonight," she replied. "I found this one at a thrift store."
Now in his 40th year covering the NFL, Ira Kaufman is the most revered sports personality and writer in the Tampa Bay area. He scored a full-time seat at JoeBucsFan.com world headquarters in July of 2016. Tampa Bay's only Pro Football Hall of Fame voter, Ira busts out columns here every Monday, Wednesday and Friday, and his award winning podcasts fire Tuesdays and Thursdays. You can also hear Ira on SiriusXM Mad Dog Radio Wednesdays at 5 p.m. during football season. Also a TV star, see Ira now on Mondays at 10:30 p.m. on Spectrum Sports 360 (aka BayNews 9). Ira also is part of the FOX-13 Tailgate Sunday NFL show and enjoys beet salads, Riesling, tennis, Chiefs victories and needling Joe.