Brentson Buckner: Say Goodbye To The 3-4 Defense
August 1st, 2018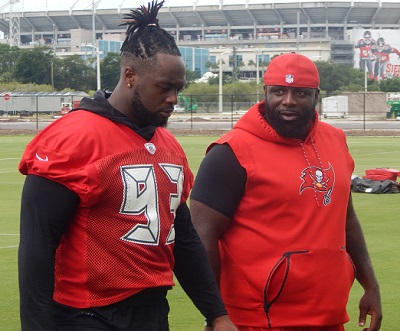 After watching endless snaps in 2018 training camp practice and studying defensive line drills against the offensive line, Joe had a question for new Bucs defensive line coach Brentson Buckner today.
"Coach, where's the 3-4? I'm not seeing whiff of it?" Joe asked.
Buckner fired back, "You ain't gonna see it. I got four dogs on every snap, why wouldn't we let'em out? … That's not the plan now," Buckner added of the Bucs using a 3-4 front.
Of course, things can change and Mike Smith is known to be obsessed with disguising his defenses to confuse quarterbacks. But no coordinator loves anything better than lining up four legitimate pass rushers.