"Shown Brilliance In His Career"
July 21st, 2018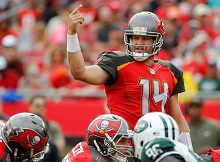 Here's an uplifting trivia question for Bucs fans feeling blue when they think of the upcoming regular season opening against the Saints, Eagles and Steelers:
How many times has Ryan Fitzpatrick earned NFL player of the week honors?
The answer is five times — FIVE! — Fitz pulled down AFC Offensive Player Of The Week, including in 2014 and in 2015.
That's impressive. Jameis Winston, America's Quarterback, earned the NFC award once in his career, for his four-touchdown performance on opening day of the 2016 season.
Former Bucs tight end Anthony Becht, who recently quit the Buccaneers Radio Network but will continue to work for the team's official website, may not know the answer to that Fitzpatrick question, but Becht says Fitzpatrick's displays of greatness give him a lot of hope for the the Bucs' September slate.
"I think completely that Fitzpatrick has enough in the arsenal to keep it close and potentially win these games," Becht said on WDAE-AM 620 this week. "You know, it's not as bad as maybe it would have been if [Dan] Orlovsky was here still, or that was the backup quarterback. When you got a guy like Fitzpatrick who's shown brilliance in his career at times, I feel good about that. But again, you'd like to have Jameis out there firing at all cylinders Game 1. But we just don't have that."
Becht has the right attitude. Fitzpatrick can get the job done for at least one game. He's a superior backup quarterback and proved that last season.
Just find one win, Fitz. Just one. It's certainly not too much for Bucs fans to ask.
Two wins, well, that would be a very, very early Christmas gift.