Ryan Fitzpatrick: "I Can Rely On My Experience And Some Of Those Scars I've Built Up"
July 1st, 2018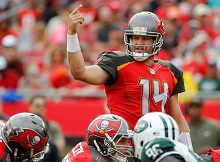 It won't be long before many Bucs fans transition from fits of rage directed at America's Quarterback, Jameis Winston, and engage in happy and fiery chants of "Fitz, Fitz, Fitz."
Those will be a rallying cry for Tampa Bay's new opening day starter, Ryan Fitzpatrick, who has as many career wins (48) as a starter than Josh McCown and Josh Freeman combined.
And Fitzpatrick has a better career winning percentage as a starter than Jameis!
Fitzpatrick, 35, spoke to Katherine Smith of Spectrum Sports and talked about where he stands in his career, the 2018 Bucs and relying on his experience, and more.
Enjoy the video below: Seventy short days until opening day in New Orleans.