Jameis Says He Wants To Be "That Perfect Role Model"
July 1st, 2018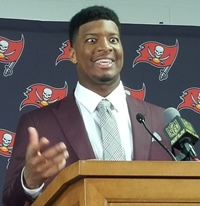 Three weeks ago, Jameis Winston sat down at One Buc Palace for a private chat with Joe and Tampa Bay's only Hall of Fame voter, Ira Kaufman.
Some of that discussion was for public consumption via the still-ranked-on-the-Google-Play-top-charts podcast known as the Ira Kaufman Podcast.
Joe mentioned to Jameis about how moving it was to see a Tampa elementary school principal speak in Pinellas Park, along with a handful of her students, at a Jameis foundation event on a Friday night in May. She and her pupils didn't have to be there speaking on Jameis' behalf.
Jameis said the real powerful talk came from her students.
"Hearing a parent or an executive explain how these kids are benefiting [from my service and foundation] is important; you can tell their pride for it. But hearing it from the kids' mouths themselves, like, it just brings tears to your eyes. It's like, 'Man, this kid one day is going to be our next president. This kid has an incredible sense of humor. This kid has incredible intelligence.'

"And that's what I want to be to these kids, that perfect role model. You know, no one's perfect, but I'm going to shoot to be perfect every single day I can. You know, because again, I'm about to be a father, man. Now, not only are everyone else's kids going to be looking at me. I'm going to have my own kid looking at me. And I'm going to have to teach him how life goes and how to respect everyone and be kind to others and how to lead, and more importantly how to serve others. That's what I do. So I can't wait for that."
Assuming the Bucs keep Jameis on the roster, how will his community service be affected? Will Hillsborough County Schools allow him on campuses? Will Jameis maintain any corporate support for his foundation?
If Jameis truly desires to be "that perfect role model," how will he address his community supporters and what message will he send directly to the kids of Tampa Bay. Will he believe his statement in response to the NFL suspension was enough?