Pining For Relevance
July 27th, 2018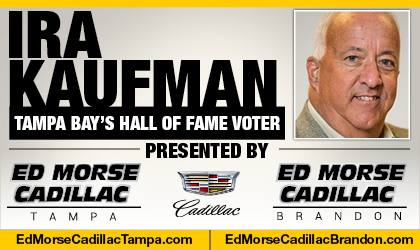 BY IRA KAUFMAN
It took almost nine minutes for Dirk Koetter to break into a smile during his first media session of training camp.
The softball query came courtesy of veteran Fox 13 sports reporter Kevin O'Donnell, who asked Koetter why he feels encouraged about the quality of Tampa Bay's roster.
"Excellent question," Koetter said while grinning. "Best question we've had so far."
Koetter knew Jameis Winston was going to be the topic of the day, but he'll be damned if Winston becomes the story of the season. Even in a quarterback-driven league, even in a quarterback-rich division, Buc fortunes will ultimately be decided by the big guys in the trenches.
Much was made of Koetter's refusal to stamp Winston as the unequivocal starter in Week 4 at Chicago, but the odds seem stacked in Winston's favor.
Yes, things could get sticky under center if the Bucs open 3-0, but history tells us this franchise doesn't do 3-0. It hasn't happened since 2005, when Cadillac Williams was running wild in cleats that ended up in the Pro Football Hall of Fame.
Koetter said he was excited about the new additions to the defensive front, free agent center Ryan Jensen and a rookie class that needs to make its presence felt this fall.
"We're not shooting for OK," Koetter said. "We're shooting for greatness."
That sounds like an offshoot of the old Vince Lombardi line about chasing perfection because you can catch excellence along the way.
Errant Fixation
If Ryan Fitzpatrick plays well and the Bucs lose the line of scrimmage during the first three weeks, they're doomed to failure. If Fitzpatrick is mediocre and Tampa Bay is stout up front on both sides of the ball, this team will be alright.
This Buc season is about Jason Pierre-Paul and Ronald Jones. It's about Donovan Smith and Vernon Hargreaves. It's about getting off the field defensively on third down and making field goals.
Remember who led the league in passer rating last year? It was Alex Smith, who was promptly rewarded with a one-way ticket from Kansas City to the nation's capital.
While the national media remains fixated on Winston, let's remember quarterback play wasn't the primary culprit in a 5-11 season. The Bucs couldn't stop people on the money down and the running game wasn't worth a plug nickel.
The pads aren't on yet, but Jones has already flashed the burst that attracted Jason Licht and his scouts. His big-play potential looms large because it's so difficult to grind out 12-play, 80-yard drives.
Joe Flacco stunk last year and the Ravens still won nine games.
Meaningful Giving
Give Fitzpatrick and Winston enough time to survey the field and they will find their targets. Give them a credible ground game and watch Koetter's game plan spring to life.
Give the Bucs a pass rush and watch Justin Evans double his interception total to six.
Tie up a few more blockers and watch Kwon Alexander fly to the football.
Make Drew Brees uncomfortable, like you did here in Tampa two years ago, and walk out of the Superdome with a big, fat opening-day upset.
Don't get me wrong. The Bucs aren't good enough to overcome a flurry of interceptions. And yes, quarterbacks do touch the ball on every snap.
But when the games count, I'll be looking for heat off the edges and power in the middle. I'm looking for mental toughness rather than the soft play we witnessed last fall.
Dirk Koetter's shooting for greatness. That's a noble goal.
I'm pining for relevance.
Now in his 40th year covering the NFL, Ira Kaufman is the most revered sports personality and writer in the Tampa Bay area. He scored a full-time seat at JoeBucsFan.com world headquarters in July of 2016. Tampa Bay's only Pro Football Hall of Fame voter, Ira busts out columns here every Monday, Wednesday and Friday, and his award winning podcasts fire Tuesdays and Thursdays. You can also hear Ira on SiriusXM Mad Dog Radio Wednesdays at 5 p.m. during football season. Also a TV start, see Ira now on Mondays at 10:30 p.m. on Spectrum Sports 360 (aka BayNews 9). Ira also is part of the FOX-13 Tailgate Sunday NFL show and enjoys beet salads, Riesling, Chiefs victories and needling Joe.