Friday Training Camp Notes & Nuggets
July 27th, 2018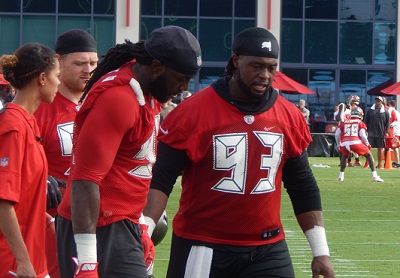 The bleachers are gone. The sight lines are different and patrolling One Buc Palace outdoors at training camp practice is a very different animal. 
Alas, Joe is feeling it out and sharing along the way. The Bucs were not in pads for the second consecutive day, a league rule for the start of camps.
*More of a hip-hop and modern mix of music at today's session, which was not open to the public. Joe heard the Migos lyrics, "eat the molly like a snack" and immediately thought of Doug Martin. Thankfully, Martin has taken his act to Chucky in Oakland. The flashback music (video below) came as third-string quarterback, America's Quarterback, Pro Bowler Jameis Winston, connected with the immortal Sergio Bailey down the left hash mark for a big gain. Bailey is an undrafted rookie out of Eastern Michigan.
*Cornerback Ryan Smith had a very up and down day, on the heels of some very solid work on Mike Evans in the indoor facility during Thursday's practice. Ryan Fitzpatrick connected with Evans on about a 35-yarder early in practice with Smith covering. More on Smith later.
*Fitzpatrick, primarily working with the first-team offense, overthrows Bailey with rookie corner M.J. Stewart covering.
*Over where the defensive line is working on drills, Joe heads for a very close look. Hey, Joe was where he was permitted to stand, just five yards from the d-line unit and high-energy coach Brentson Buckner. Gerald McCoy seemed annoyed by Joe's proximity and said something to Joe and made a wave-off kind of motion. Joe waved back.
*Of note, the d-line put in a chunk of time working on going around giant tackling dummies without using any hands, focusing on the full body turning and effort without the use of hands and arms. Buckner was aggressively coaching up Jason Pierre-Paul, "Snap that head, J," Buckner barked before going over to talk to him at close range. JPP seemed like a good student. When the drill shifted to using hands and arms to club the dummies, Buckner was on the guys to focus on their bodies. "You ain't got to cock your hand back! Let your body do the work!"
*Big-time precision throw by Fitzpatrick, complete 10 yards over the middle to Cameron Brate. Lotta zip with Lavonte David all over Brate in 7-on-7 work.
*Underthrow deep left about 40 yards to DeSean Jackson from Fitzpatrick. It gave Smith time to catch up and break up the play. Jackson was not happy, clapped his hands together in frustration.
*Jameis rolls left and is unable to connect with camp meat on a short pass that is well-defended.
*Ronald Jones busts around left end and loses defenders.
*Bucs transitioning to a little tempo work and Joe sees the rare sight of Dirk Koetter in a 40-yard sprint. Not a good look. Joe almost thought Koetter was going to go down. He did have hip replacement surgery just before he got the Bucs' gig.
*Fitzpatrick rolls right and throws a dying duck of a pass. Incomplete. Target unknown.
*In 11-on-11, Jameis hits DeSean Jackson on a crossing pattern from the right side.
*Jameis is not throwing the ball smartly. He rifles a pass to Mike Evans who is covered perfectly by Vernon Hargreaves. Incomplete. Then Jameis off a play-fake, rolls left and throws behind undrafted rookie tight end Jason Reese.
*Jameis fumbles a shotgun snap. Unclear how bad the snap might have been.
*Ryan Griffin throws a ball to no one remotely close down the left side. Major miscommunication.
*Bombs away! Fitzpatrick heaves a pass down to a streaking Jackson down the left side about 60 yards. Jackson had to slow up only slightly to get but the ball dropped right in his breadbasket. Smith got to eat turf pellets (track people will get that reference.
*Lot of guys working after practice on their own time. Joe can't remember seeing so many in previous years on a steamy summer day. Fitzpatrick is seen bouncing between a lot of dudes and takes private time for a back-shoulder, red-zone work — and discussion — with Chris Godwin. See home page story.
*Jameis takes most of his after-practice work with coaches and O.J. Howard, with him and Howard working over and over on simple routes.
— JoeBucsFan (@JoeBucsFan) July 27, 2018