Grimes: Camp Vibe Is Same As 2017
July 27th, 2018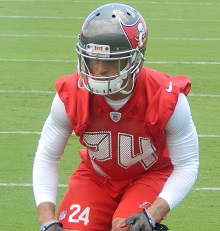 With two days of training camp now in the books, 35-year-old cornerback Brent Grimes says there is the same great positive energy on the team that he felt last summer.
This might cause the cynical Buccaneers fan to weep or throw a shoe in frustration, but Grimes is wholeheartedly sincere.
Whatever sank the Bucs last year wasn't about attitude, Grimes told Joe after practice today.
"It's a good vibe at camp. I feel like we always have a good vibe; it's a positive group of players, coaches," Grimes said. "I feel like this is a positive group. Last year things didn't go how we wanted, obviously, but it wasn't because we started off any type of way wrong. It was positive. … You know, to really tell if you're good, that only happens when the games count. That's how this league is. For now, we just got to go out here and put the work in and make it happen when it really counts. This is a very positive team with a good attitude and that's really the foundation."
Great to hear that from Grimes, though it would have comforted Joe to learn something already was different from last season, which was a complete mess by early November.
It's really not too surprising, though, Dirk Koetter very much believes in his system and he loves the talent on his team and the way it battled through a 2-6 start and finished with seven one-score losses last season.