Mike Evans No. 43; Vernon Hargreaves Victimized
July 19th, 2018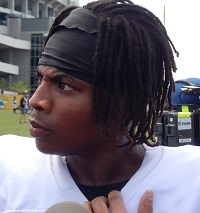 Joe apologizes for those seeing this post in the wee hours. It might get you so jacked up for football season that sleep will be impossible tonight.
What Joe's got is a video pumped out yesterday on social media by the NFL. It's their assessment of the 50 best catches of the 2017 season.
One Buccaneer is celebrated, Mike Evans, for his touchdown grab in Buffalo. It's ranked No. 43 overall.
Vernon Hargreaves is also seen on this video that includes interceptions. Unfortunately, Hargreaves is spotted getting torched in Minnesota. And upon further review, he interfered with receiver Adam Thielen.
Regardless, the video is great stuff. Enjoy!
Joe is toasting a cold one in hopes DeSean Jackson, Chris Godwin and Brent Grimes join Evans in the 2018 edition of this video.
50 days until #Kickoff2018?

The 50 BEST catches of 2017! 🙌🏈 pic.twitter.com/S7n58bYmdC

— NFL (@NFL) July 18, 2018