"I Gotta Lot To Prove"
July 30th, 2018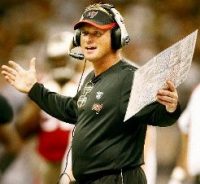 It was an awful lot of fun to see the ol' ball coach take a fresh shot at modern technology, explain how he's squeezing a hell of a lot from training camp walk-through sessions and simulating TV timeouts, among other things.
Nine seasons ago — some call it a lost Bucs decade — Chucky patrolled the Tampa Bay sidelines. Now Chucky is leading the Raiders and Joe's been paying attention.
Jon Gruden's opening training camp news conference is below. After a couple of slow minutes, it rolls into some classic Chucky. Man, he loves him some Derek Carr and Jordy Nelson and Marshawn Lynch.
Enjoy!